The clocks change this month and the saying "Spring forward – Fall back" heralds the days shortening and getting darker quicker as we head towards winter. But October and November are still busy months in the garden. After months of taking care of the growing pumpkins, children will be harvesting them for Halloween and enjoying pumpkin pie. But once the festivities are over, do not throw the pumpkin away - fill it with soil, plant some winter pansies etc. and use it as a flower pot.
Check out this DIY Pumpkin Flower Pot tutorial >
Once it starts to rot down, bury it in the garden and let the rotting pumpkin provide natural fertilizer to the young plants inside.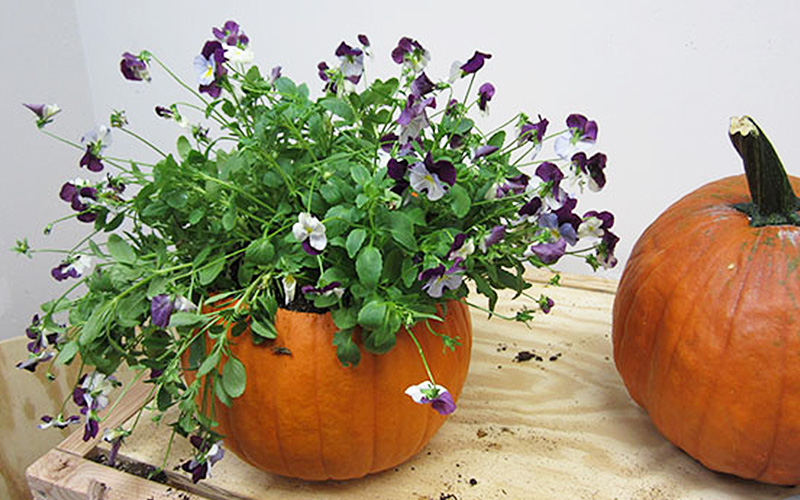 This time of year will also see many gardens being "put to bed", with flower borders starting to be tidied up, vegetable gardens being cleared ready for mulching and planting out of winter vegetables, collecting fallen leaves etc. Do not waste this greenery – put it on the compost heap or in a hot bin to rot down and make mulch for next year.
Look out for Hedgehogs!
It can be tempting to clear all the fallen autumn leaves from our gardens, but as the temperature drops, our native hedgehogs are already getting ready to hibernate and with their numbers in decline, creating piles of leaves is a great way to help them make a nest, to keep warm and to make it through their long winter sleep. Dry leaves are best, so find a sheltered spot and leave a pile there.
The hedgehogs will repay you by eating slugs next year!!
Remember too, its worth checking under bushes and hedges before starting any work and if you are celebrating Guy Fawkes Night with a bonfire do check it for wildlife before lighting it!